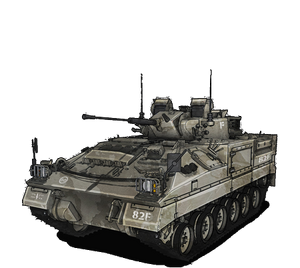 The Warrior is based on the real life Warrior tracked armoured vehicle, a infantry fighting vehicle in use with the British Army.
Description
Edit
This vehicle was a discontinued vehicle that was planned for inclusion but was removed. It would have been called the Warrior. 
The Warrior does retain an apperance in the game, it can be found in Military Bases and Military checkpoints in certain terror missions.
Ad blocker interference detected!
Wikia is a free-to-use site that makes money from advertising. We have a modified experience for viewers using ad blockers

Wikia is not accessible if you've made further modifications. Remove the custom ad blocker rule(s) and the page will load as expected.