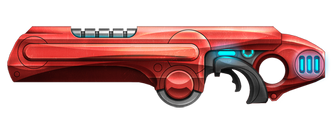 The Alien Heavy Rifle is an upgrade to the smaller Plasma Rifle. It is the combat choice for many heavy alien units because of it's firepower.
Although it is a very effective weapon, it's smaller cousin has a larger clip and weighs less, allowing for better sustained fire and more efficient movement.
Weapon Details
Edit
Damage

Mitigation

Range

Magsize

Weight

Single Shot
Snap
Normal
Aimed
65
30
15
6
8
28% TU
40% TU
55% TU
Ad blocker interference detected!
Wikia is a free-to-use site that makes money from advertising. We have a modified experience for viewers using ad blockers

Wikia is not accessible if you've made further modifications. Remove the custom ad blocker rule(s) and the page will load as expected.